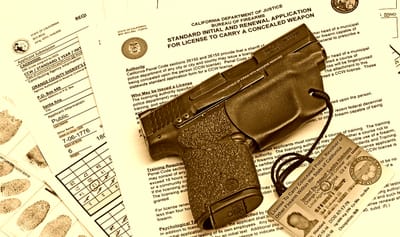 Under the authorization of the presiding Sheriffs for Mendocino, Sonoma and Lake Counties, we provide the necessary training, for RESIDENTS of those counties, seeking to obtain, renew or modify a concealed carry weapons (CCW) permit.
The student will be presented with a summary of legal requirements & implications of lawfully carrying a loaded, concealed handgun in public, with emphasis on conflict avoidance, respect for others, responsible gun ownership and safety.
We train the student in essential handgun handling and shooting skills, however applicants should have a basic knowledge of their weapon before attending the class. Upon completion of the course, the student should have a clear understanding of California laws pertaining to the use of force and concealed carry of firearms. While directly observed in exercise and course of fire, the student shall demonstrate the ability to safely carry, handle and fire their chosen handgun, through performance in technique and marksmanship.
PRIVATE OFF SITE COURSES ARE AVAILABLE, CALL OR EMAIL TO DISCUSS DETAILS707-485-2481 or EMAIL mendoccw@gmail.comIt should be noted that a CCW class is not always for a beginner. It's generally designed for and intended to be a venue for applicants with a basic understanding of shooting and gun handling techniques. To that point, for less experienced persons, preparatory training could prove beneficial, increasing the applicant's confidence and probable success. Completion of a course does not guarantee issuance or renewal of a CCW Permit. It is only one step, of several, that must be met.
For more information on the CCW application process, click the specific link below, for your county of residence.Mendocino County SO CCW Sonoma County SO CCW Lake County SO CCW